Design Solutions For Your Business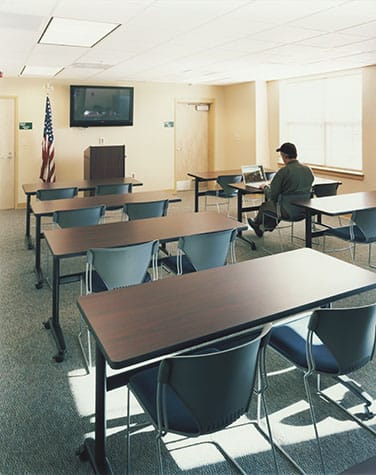 What is Commercial Architecture?
Commercial Architecture is the design of buildings that can provide a place for a business to meet and work with its customers, as well as house the staff, equipment, materials, and inventory needed to satisfy their customer's needs. The design features of commercial projects are specific to the kind of business that they are designed for, but they usually feature a public area where customers or clients are greeted and sales activities are carried out, and a private "back of house" area where staff does the work of the business's vocation. Often, there is also administrative space where managers oversee day-to-day operations of the business as well as do their part in creating the service that the business provides. These are the "bare bones" of the features that commercial architecture brings to a business design project, but there are more qualitative aspects as well. Commercial architecture can create a marketable image for a business, where the designed appearance of the building can express the brand and the goals of the company that dwells there. Commercial architecture can provide features that make the experience of using the services provided by the business memorable and enjoyable. It can also add features designed to draw customers in and generate new business.
How Can Architecture Help Your Project?
While local municipalities and building codes often require that an architect be involved in the design of work for use by the public, an architect is transformed from a requirement to a key project necessity because of his ability to develop a deep understanding of the needs of a business, both its practical and technical requirements as well as its commercial image and brand. Matthew Carter, Principal Architect at Carter Architectural Design, has over 25 years of experience serving the particular needs and goals of commercial clients and in creating the space that business needs to achieve its goals. Much of that work has been carried out here in Bangor, Maine, but his design skills are also seasoned with work in other localities, including Alabama, Pennsylvania, and Maryland. Mr. Carter believes that good design has value for commercial endeavors, and uses his design experience to create memorable, exciting, and moving places for businesses to achieve their success in the locations that they call home.
Our Commercial Design Philosophy and Services
Carter Architectural Design is a strong believer in the early application of expertise to your project. Often, businesses are looking at several potential places for their building project, and the evaluation and selection of existing properties for new construction or renovation can benefit from the planning, code evaluation, and practical experience that an architect can bring to the table. We specialize in Existing Facilities Evaluations that can help to define the advantages and disadvantages inherent in a particular property, be they related to code compliance, accessibility, growth, or constructional practicality. You can benefit most from our experience by involving us in your project early on so that we can help you select the best property for your needs, preferably before you buy something that has unfortunate complications attached to it.
Working with Carter Architectural Design is simple and affordable for your project and your bottom line. We understand the importance that our services be affordable and predictable both in terms of cost and quality so that you can concentrate on your business to develop a project that will support your company's activity and image needs. Our proposals clearly state the scope, extent, and predicted schedule of the services you need, and define a cost based on those activities, rather than an arbitrary hourly rate. That results in architectural services that are finite in nature and based on the production of real deliverables on your timeline, instead of the unending application of time and resources to your project. Our services are unique to your project, and tailored to your needs, schedule, and budget.
A Team Approach to Your Project
Often, it is your staff that knows the most about the operational needs of your business, or your clients that understand most what they need from you. Carter Architectural Design is happy to work with the clients and stakeholders that you want to involve in the process. We believe that architecture gets better when it involves input from many directions, and we work to make better buildings for our clients by accommodating the needs of all relevant user groups.
Project Cost Estimating and Cost Control
Of course, the other part of the procurement of a construction project is the cost of the construction of the building that will become the new home for your business. Cost information benefits a project the most when it is provided early and often during the development of the work. Carter Architectural Design helps you to manage the cost of your project from the very beginning, by analyzing your programming needs to see how much space you will need and measure that against its potential cost. As the project moves forward and continues to develop, we review the projected cost of the work at each step of the process in the light of more detailed information to avoid cost surprises that can derail the work. If you have a particular contractor that you would like to work with, we invite them to become involved early on in the design process, so that the project can benefit from their practical experience before we break ground.
Often, municipal authorities and lending institutions want to know more about your project and the impact that its size, cost, and other features will have on the community and their bottom line. Carter Architectural Design excels in providing clear and concise graphic and written information that describes a project to all interested parties. Our documents help to build consensus with regard to the appropriateness and cost-effectiveness of the projects we develop. We use our expertise to speak for our clients to provide convincing design information that answers the questions of stakeholders and concerns of financial institutions as to the necessity for their projects.
Start Today!
Carter Architectural Design is ready today to help you to make your commercial project a reality. Contact our staff to imagine your future today.