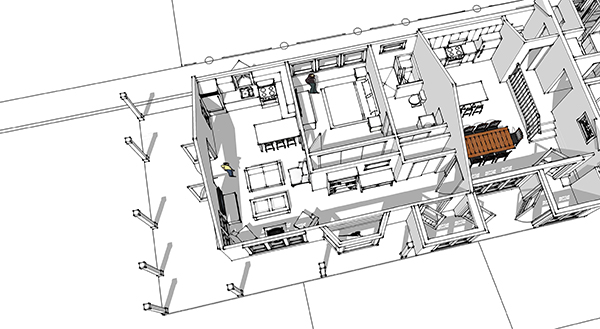 What is Residential Architecture?
Residential Architecture involves the design of private homes for individuals and families just like yours. All people can benefit from housing that is designed to meet their particular preferences and needs, and Carter Architectural Design believes that thoughtful and beautiful residential design doesn't have to be prohibitively expensive, especially when one considers the long-term benefits that such service can provide for a homeowner.
Why do I Need an Architect for my Residential Project?
Private residential buildings are unique in that building ordinances often do not require that an architect be hired by the building owner to design the project. A private homeowner is frequently able to create their own design for their dream home and engage a contractor directly to build their new home without the involvement of a design professional. How successful a private homeowner can be in creating their own residence is directly dependent on their ability (and the time they have available) to think about and manage the development of a complicated project and process. Some people are naturally skilled at design and construction and have great success, while others may be surprised to find that the process of creating a home can be quite challenging. An architect is trained to provide valuable assistance and experience in the creation of a new home and can deliver a building delivery process that is not only successful but also personally rewarding for all parties concerned.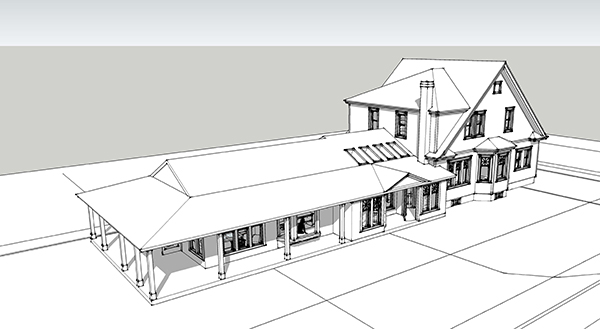 Benefits of Using Architectural Services
Involving an architect in the design of your home can help you to have a successful project in many ways:
Understanding Your Needs: An architect can bring an attentive and understanding ear to your project that can help you better understand what you want your home to be like when it's finished. Working with an architect, you may gain insight and understanding of your housing needs that you did not previously have, and which may result in a better design result for you and your family.
Design Thinking and Visualization: Architects can apply their considerable design skills and experience to design a home that will meet your precise family needs and project parameters in exciting, attractive, and efficient ways. Architects are also trained to visualize buildings before they are built, and an architect can use his graphic and presentation skills to help you see what your home will look like before you commit your time and resources to make it a reality.
Construction Experience: Architects have experience with the construction process, and can help you understand how your project will be constructed, how long it will take, and how much it will cost. Often, they have already worked with many of the building officials and contractors who will be available to work on your project and can help to smooth the process of project approval, contractor selection, and construction management that will be involved in executing your project.
Special Design Criteria: Sometimes, special circumstances can turn a simple project into a more challenging design exercise. Special programmatic requirements (such as family members with special needs) can add accessibility and equipment accommodation to the list of issues that must be considered as part of the design solution. Special zoning restrictions or historic preservation issues can impart restrictions on the extent, location, and design style that may be used for a project. An architect can incorporate these requirements into the design solution for your project so that your special concerns for the project are met.
Renovation Experience: Renovating an existing home can often be more challenging than designing a completely new home. Reconfiguring the interior arrangement of an already existing property, or creating a sensitive addition for a historic residence, present special challenges that are best addressed by an architect with experience in renovation and historic preservation work.
Project Documentation: Often, people building a new home need documentation and cost data for presentation to lenders to obtain financing for their project. An architect is adept at creating the plans, renderings, specifications, and cost estimates needed to describe your project to a bank and to convince the parties involved that the project can be completed on time and under budget. Such documentation can also be used by your contractor to create preliminary estimates for the work, so that cost information is known and addressed early in the project, avoiding unpleasant surprises for all project participants.
Contractor Selection: The contractor who will build your new home is a key player in the creation of your successful project. An architect can help you select a contractor with the special expertise that is demanded by your project, and involve that contractor early in the design process so that the project can gain the maximum benefit of his or her experience. Contractors can provide valuable early input for the design of a new home, especially regarding construction practicality and cost estimate development. You may want help with contractor selection or you may have a contractor that you know well and would like to involve in your project…either way, a good architect can help you make your contractor an integral part of your project delivery team as early as possible.
Our Experience
Matthew Carter, Principal Architect at Carter Architectural Design, has over 25 years of extensive experience addressing challenges like those listed above. Much of that experience has been earned working on projects in the state of Maine and in the Bangor area in particular. The special challenges of working in Maine, including the extreme climate, powerful historic context, complex zoning and code requirements, and strong vernacular design tradition have allowed Mr. Carter to develop a strong set of skills that particularly benefits challenging residential projects in our great state and throughout New England.
Start Today!
Carter Architectural Design is ready today to share our experience and enthusiasm for residential work with you to make your project a success. Contact us today, so we can help you make your new home a reality.